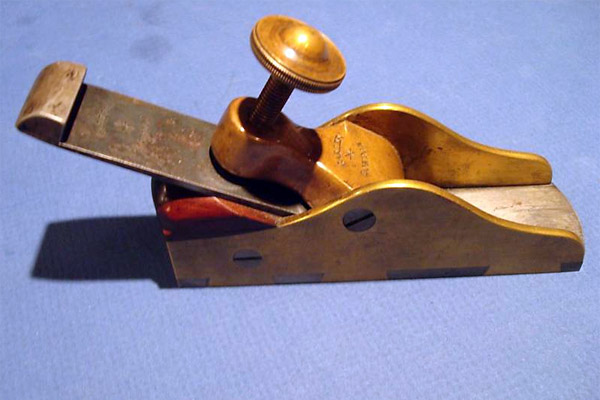 Bill Carter Reproduction Mathieson Thumb Plane

Filed under: Carter, Thumb Planes
Tagged: Dovetailed, Gunmetal, Karl Holtey, Rosewood Infill, Steel, Thumb Plane

Description
Bill Carter of Leicester, England was amongst the first of the new breed of infill plane makers. Bill started making planes in the 1980's and is primarily known for his dovetailed box mitre planes using the brass backs of old handsaws -- often with the original sawmaker's marks still stamped on them.

It would be an understatement to say that Bill has made a few planes over the years. He has a preference for making smaller planes (as do I actually) and has made hundreds and hundreds of wooden planes, usually from English boxwood, as well as the dovetailed metal planes.
This is one of Bill's reproduction Mathieson thumb planes. Back in 1999, in an interview I did with Bill for Handplane Central Online (now just Handplane Central), he stated: "I've started to make copies of the Mathieson thumb plane because again it's an extremely rare pattern over here in England. I had an original Mathieson thumb plane myself and I dearly loved the shape of it. As far as I know there's only been two original Mathiesons found and I had one of them."
Carter is also known for turning ordinary cutting irons -- whether tapered or parallel -- into snecked irons. The cutter on this particular plane is by I. Sorby and has been "transformed" by Bill. The mouth is very tight and has been made using a traditional tongue and groove joint. The lever cap is stamped "Carter, London" and was made by F.P. Robinson (Bushy) from Eye near Peterborough in the U.K. Bill's stamp also appears on the iron and the rosewood infill.
Click the links below for more on Bill Carter.
Interview With Planemaker Bill Carter.
Bill Carter's Official Website.
More Images