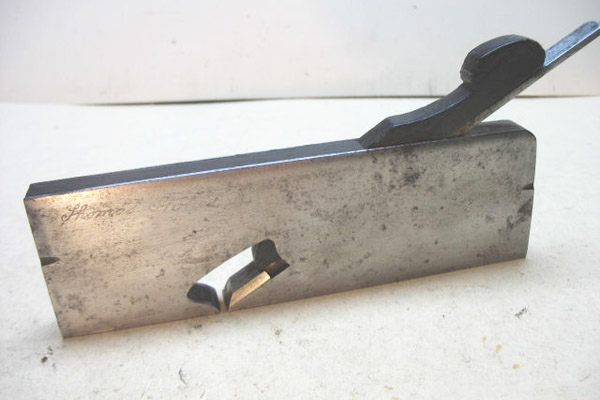 Towell Small Dovetailed Steel Rabbet Plane

Filed under: Rabbet Planes, Towell
Tagged: Rabbet Plane, Rebate Plane, Robert Towell, Rosewood Infill, Wrought Iron

Description

Robert Towell is mostly known for his dovetailed mitre and rabbet planes. Working from around 1830 onwards (exact dates are unknown), Towell was well placed in the market when the infill plane began to gain popularity amongst the high-end cabinetmakers of the Victorian era.

Planes with the Towell mark are well crafted affairs. The dovetailing is accurate and details, such as the chamfering, are well executed. Mostly constructed from wrought iron, the side and sole plates are joined in such a way that they are still tight after 150 years or so of continued use. In fact I can't say that I've ever seen a Towell plane that hasn't been well made.
It can be argued that there are many planes that appear to be made by Robert Towell, and carry all the hallmarks of having been made by him, but are not marked as such. Certainly they are as equally well made as the Towells, and may possibly be directly copied from them if not made by his own hand. In particular the distinctive shape of the mouth openings on his rabbet planes often find their way onto unmarked planes. It is possible that the marks may have worn off over time through overzealous cleaning, or that these may be earlier versions of his planes, before he managed to obtain his own stamp. Whether this is true or not is continually open to interpretation and debate.
That is not the case with this plane, however, as the stamped is clearly marked "Rt. TOWELL, LONDON" on the toe of the plane. Measuring 6" long and 5/8" wide and infilled with Brazilian rosewood, there is no metal "keeper" to hold in the wedge. This is not uncommon with earlier rabbet planes or planes of this particular size as, arguably, the force needed to keep the wedge tight against the cutting iron is not as much as it is on a larger rabbet plane.
A nice example of an early infill plane.
More Images