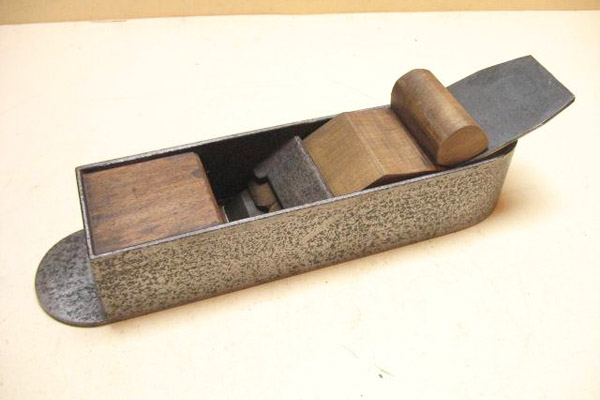 King & Co. Dovetailed Infill Mitre Plane

Filed under: King & Co., Mitre Planes
Tagged: Box Mitre, Dovetailed, Henry King & Co., Miter Plane, Mitre Plane, Wedged Plane, Wrought Iron

Description

An early example of a mitre plane made by King & Co. Constructed from plates of wrought iron, this plane has been expertly dovetailed together and the tongue & groove joint which forms the mouth is exceptionally tight.

The plane measures 10-1/2" in length and 2-3/4" wide, and comes with a 2-1/4" wide cutting iron made by Sorby. The simple, yet effective, wrought iron bridge is stamped "KING & CO, HULL" -- a mark that is rather uncommon amongst infill planes.
If I was to hazard a guess I would estimate the date of this plane to be from around the mid 1860's, or thereabouts. It is not easy to determine from the pictures what the infill wood is but it looks a little like mahogany or walnut. Clearly the wedge is a replacement and there may be a possibility that the infill itself has been replaced at some stage.
As can be seen in the photograph of the rear of the plane, there does not appear to be any dovetails securing this part of the body of the plane to the sole. Even after 150 years of use this does not seem to have affected the plane too much, and there is no distortion or "opening up" to speak of.
King & Company was based in Hull, in England, and was originally started by Henry King in 1744. Over the next 120 years the business went through various changes, acquisitions and partnerships before emerging in 1864 as King & Company. Although the firm had eventually ceased their planemaking operations sometime around 1907, the business itself continued manufacturing other tools until recent years.
More Images