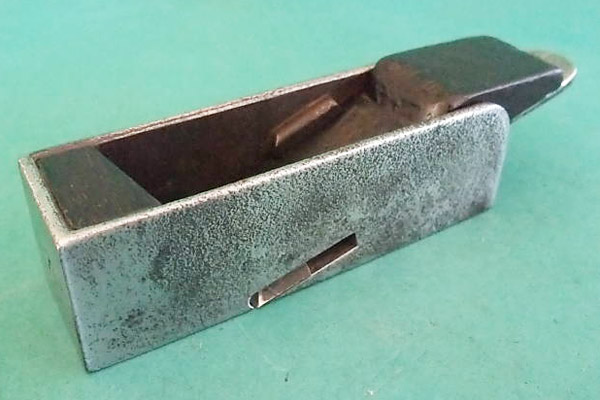 Holland Miniature Skewed Badger Mitre Plane

Filed under: Holland, Mitre Planes
Tagged: Badger Plane, Holland, Malleable Iron, Miter Plane, Mitre Plane, Rosewood Infill, Skew Cutter

Description

Here's something you don't see every day. A custom-made miniature skewed badger mitre plane by John Holland of London. Not only are Holland mitre planes rare, but this one is skewed, small AND badgered!

Measuring only 4-3/8" long, 1-3/8" wide and 1-1/4" high, I would think that this plane would have possibly been made for an instrument maker of some kind. Certainly some of these types of planes, most notably Norris thumb planes, were marketed towards pianoforte case makers and the like. It stands to reason that this mitre plane could've been made for a similar purpose.
Rather than a lever cap or bridge to hold down the rosewood wedge, there is a raised rectangular lug on each of the sides of the plane to secure it. This method allows the cutting iron to be withdrawn without fouling or catching on the rest of the plane. In fact, due to the ultra tight mouth, it would be impossible to insert or withdraw the iron anyway by using those two aforementioned methods.
Similarly the escapement on either side is also a simple affair -- merely a narrow slot rather than a more open design. All in all it's a nice little casting.
Due to the short length of the plane, the cutting iron and wedge extend past the heel and are lower in profile than the sides. The shape of the wedge is somewhat flattened in the finial, producing a rather low profile, but the other end does feature a nice cupid's bow.
The rear face of the front infill has a typical "S" moulding that is often a characteristic of infill mitre planes. The metalwork has light all-over pitting but this is not deep. Supposedly the pictures make it look darker than it is.
At first I assumed (though assumptions can often lead to trouble, granted) that this particular plane may have been one of Holland's earlier planes rather than a later one. However, the fact that it has the word "MALLEABLE" stamped on the toe would suggest that it is indeed a later plane.
John Holland worked from between 1861 and 1892 and is described in Goodman's "British Planemakers From 1700" as a "Maker of fine shoulder (and other) planes".
More Images