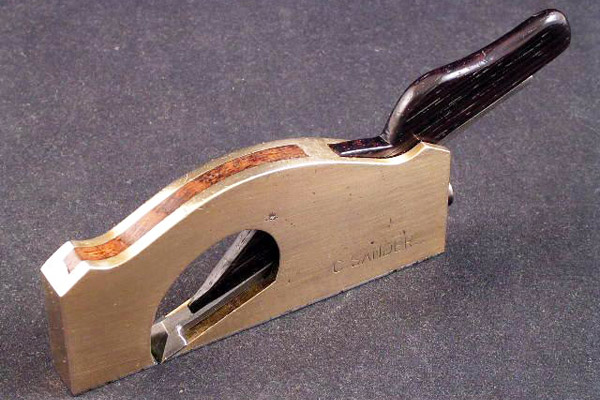 Small Gunmetal & Rosewood Infill Shoulder Plane

Filed under: Shoulder Planes, Unknown Makers
Tagged: Gunmetal, Rosewood Infill, Shoulder Plane, Unknown Maker

Description

A really nice (I think so anyway) user-made steel-soled gunmetal & rosewood shoulder plane measuring only 3-7/8" in length and 7/16" wide. There's a "two-tone" effect with the rosewood, as the infill is light coloured while the wedge is quite dark.

I wouldn't necessarily say that the wedge is a replacement, however. It could be but, at the same time, it may very well be the original. Either way the effect is quite striking.
Viewed from the side the design of the plane is quite symmetrical. The casting is clean and well done, and a steel sole has been sweated on to the gunmetal casting to help reduce the wear of the sole. The mouth is nice and fine.
A high quality little plane in excellent condition.
More Images