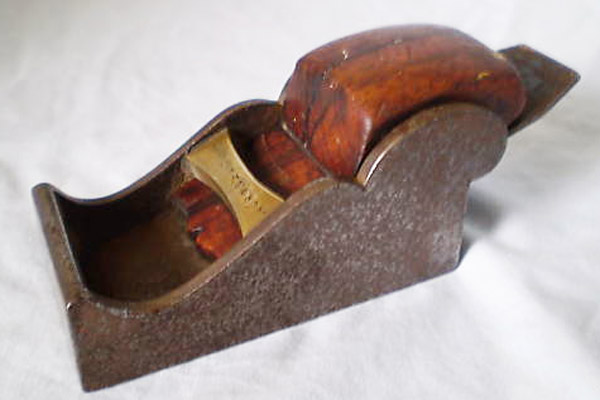 Moseley & Son Chariot Plane

Filed under: Chariot Planes, Moseley & Son
Tagged: Chariot Plane, John Moseley & Son

Description

Steel chariot plane with Brazilian rosewood wedge, which is marked "MOSELEY & SON" on the gunmetal bridge. This one is more of a "stock standard" chariot, with little in the way of decoration -- save for a nice little cupids bow on the wedge.

There are no chamfers or "rounding over" of the top edges to speak of, though they would have been gently broken so as to not be too sharp for the user.
The sole measures 4" in length and the plane is 1-1/2" wide, with a 1-1/4" wide cutting iron, also stamped with the "MOSELEY & SON, 151 LEMAN ST., LONDON" mark. The rear infill is made from stained beech wood.
The Moseley dynasty was supposedly established way back in 1730 and extended into the early 1900's. For most of the 19th century the firm was the pre-eminent wooden planemaker in London, and wooden planes by this maker are common. Like many of the larger businesses at the time, the company would've sold their metal planes in the latter half of the 19th century, probably from about 1880 onwards. It's from this era that I would expect this particular chariot plane to be produced. In fact the stamp on the cutting iron would place the date at around 1883 to 1894.
More Images