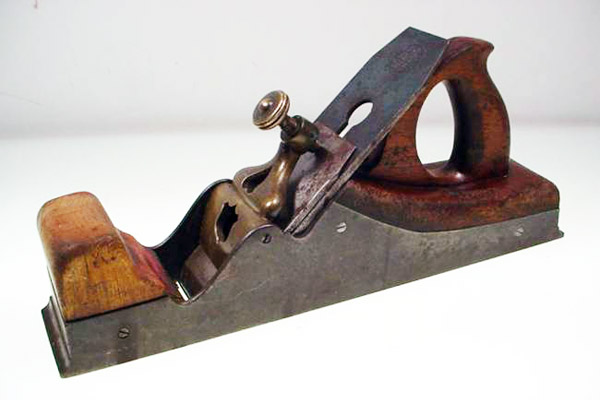 Scottish Style Panel Plane With Mahogany Infill

Filed under: Panel Planes, Unknown Makers
Tagged: Cast Iron, Overstuffed, Panel Plane, Scottish Style, Unknown Maker

Description

Here's a user-made Scottish cast iron panel plane with pierced gunmetal "heart & shield" lever cap and mahogany infill. Planes made in the "Scottich style" tend to embody all the elements of function, form and beauty -- and possibly a little bit of whimsy thrown in for good measure.

Oddly I find these handplanes to be both masculine and feminine in their design. Masculine, because they are usually quite beefy and substantial, with heavy stepped toes and heels and with large rounded and overstuffed infills. Feminine, because the rear handles are often flowing and shapely and the lever caps -- especially the pierced ones -- are usually thinner and elegant, with delicately shaped screws to help compliment the look.
It's difficult to determine a timeframe for the origins of this style of plane. Did they come before the patterns made famous by Stewart Spiers or did they only make an appearance sometime afterwards? It's hard to say for sure, and there are arguments either way. Personally I'm of the belief that they first appeared some time after Spiers started to make a name for himself -- mainly due to the fact that metal casting was very much "hit and miss" early on and was not something to be undertaken lightly. It was a much easier process to fabricate the metal shell of a plane by dovetailing the pieces together.
So what of the casting that a young Stewart Spiers purchased from a foundry workshop in Edinburgh and finished in his father's workshop? Who can say for sure, as it was never noted just exactly what type or style of plane this was. Unfortunately it's a mystery that is now lost in time.
You would think that the lever cap is so fragile that it would bend and break. While I have seen some that have bent and distorted over the years, I can't say I've seen a lot of broken ones. Not that you should crank up the pressure on these types of lever caps anyway, but it's surprising what people will do sometimes.
This particular plane measures 13" in length and is around 2-3/4" wide. The cutting iron is 2-1/2" wide. While the rear infill appears to be made from mahogany (though it's not always easy to tell from just looking at a few pictures), the front bun looks more like beech or oak.
More Images