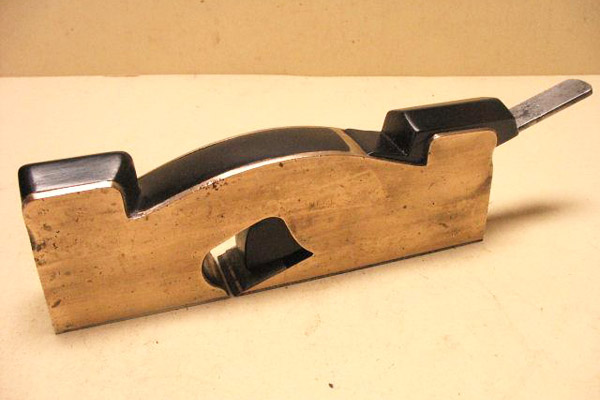 Gunmetal Shoulder Plane By John Holland

Filed under: Holland, Shoulder Planes
Tagged: Ebony Infill, Gunmetal, Holland, Shoulder Plane

Description

A rather angular looking gunmetal shoulder plane by John Holland of Lambeth in London. Known as an "improved pattern", it features a sweated steel sole and a tight mouth -- which is standard practice on many of the top-end gunmetal shoulder planes by the major manufacturers.

The ebony infill and wedge is faultless on this particular plane. Personally I'm not a fan of the angular look, though many are. I'm more of a George Miller fan when it comes to shoulder planes. This particular pattern though is quite uncommon and therefore highly collectable.
The plane measures 7-5/8" in length and 1-1/4" wide. There's plenty of life left in the cutting iron, suggesting that the plane has not seen a great deal of use in it's time. Although there is no strike button on the heel of the plane, the rear of the casting fortunately has not suffered from misuse. Another plus for the collector!
Holland was a toolmaker and dealer who was in business from 1861 to around 1892. He worked from two known locations -- 68 Oakley St., Lambeth and 93 York Rd., also in Lambeth. The York Rd. address was just down the road from another maker who was known for knocking out a few infill planes, a Mr. Thomas Norris.
More Images