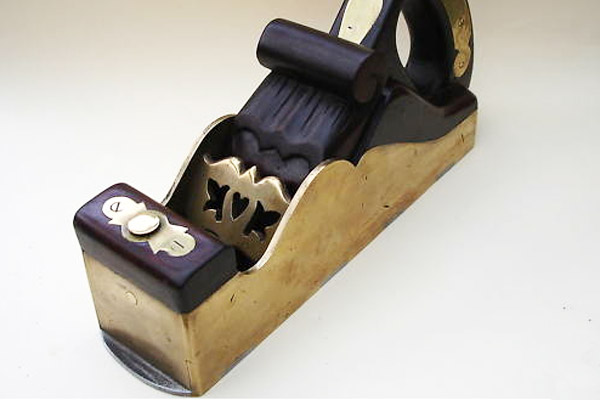 Dovetailed Brass & Steel Infill Plane By Bryan Lilley

Filed under: Lilley, Smoothing Planes
Tagged: Brass, Bryan Lilley, Closed Handle, Dovetailed, Mahogany Infill, Parallel Smoother, Smoother Plane, Wedged Plane

Description

Bryan Lilley is a new user-maker from England, and this is his first infill plane. It's dovetailed in brass and steel and the wedge and infill are made from old dark tight grained mahogany. There are overtones of traditional Scottish designs with this hand plane -- particularly in the pierced bridge and the carving of the wedge and inlaid front bun.

The closed rear handle on this parallel smoothing plane has been reinforced with steel, and the decorative engraved and inlaid brass straps also add a bit of extra strength. The brass sides are made from 1/8" thick plate and the pierced cupid's bow bridge is 3/16" thick, which helps avoid distortion when the wedge is fitted. A piece of brass has also been dovetailed to the toe of the plane.
The plane measures 9" long at the sole (not including the overhang of the rear handle) and the width of the plane is 2-3/8". The Mathieson iron is 2-1/8" wide and fits perfectly on the bed of the plane, making the mouth nice and tight.
Bryan had always wanted to collect infill planes but, due to the expense, he didn't really have the ready cash to make a go of it. Now he makes his own planes to his own liking, though he has stated that this plane is a one-off design and will not be reproduced.
While it may not suit the purist collector it is still quite a beautiful and usable handplane, and I for one look forward to seeing more infill planes from this maker.
More Images